Day 1, May 27
Regina Baltica was our ship. We got on it at 4:30, at the last minute.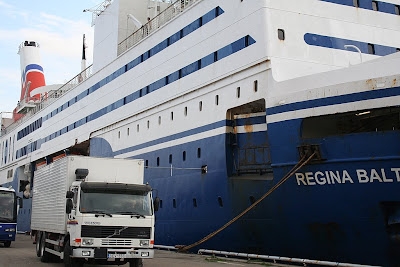 Walked through the ship and checked out all the expensive Tax Free shops. Afterwards we went to see where to eat the dinner. There was a buffet for £18 ($36) per person, which was a little too expensive and a fancy restaurant with shiny wine glasses, which seemed a little too much as well – after all, we were here to rough it and sleep on the ground, instead of eat at fancy places. Instead we settled for a café and had a dinner there.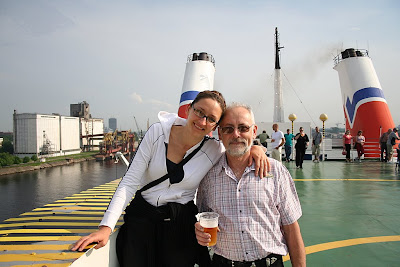 We played UNO the whole night. Anda and Janis, my cousin and her husband, love the game and are experts at it. They play it on points. At the end of the game, if someone has cards left, they are worth points. Whoever has the most points looses. Five games are played and the looser has to do something that we have decided ahead of time. Neil lost the first game and had to do dishes for 2 days while we are camping. Next two losers had to put up the tents, which happened to be Anda and myself (a complete mistake). The next loser had to make a dinner, there had to be a counting mistake because once again I found my name in the loser slot. The last two losers had to take tents down, put the sleeping bags away and pack the matraces. This was my dad and I – I had had enough of this game!
Anda, Janis, myself and Neil had one room on the ship, dad had another. We had a quick breakfast and we were off the ship in Sweden, Stockholm. We drove towards Lillihammer, the home of the winter Olympic games. In Riga the temperature was 29C, Stockholm was 16C.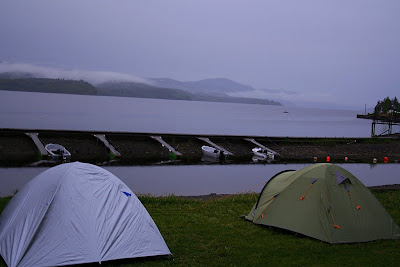 The first dinner of our trip!
Day 2, May 28
Most of the day we are driving, with a few stops for bathroom and lunch. Sweden looks a lot like Latvia. There are a lot of trees and flatness but is much more stony. Huge rocks are on both sides of the road.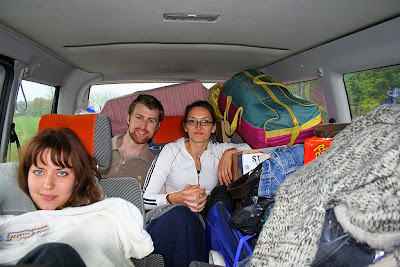 Dad had the say in the music we listened so we were going through the best of ZZ TOP and some Pink Floyd. I might have been praying for a better DJ but no one will know it. Dad is driving, Janis is sitting in front, Anda in the middle and Neil and I in the back seat. We changed seats during the trip later on. The minivan is full to the brim, so that you can't see through the side windows. We've bought enough food for 5 people for 2 weeks, we are carrying it in the van along with the tents, sleeping bags, dads boat with motor, and all our personal stuff. That van has to be expandable, I have no clue how it has all fit in. Some of the highlights of the food we went to buy – 6 loaves of white bread and 12 of dark bread. A box – 24 packs – of instant potatoes, 10 instant soup packs and so on. We stopped at a gas station for lunch and had some tomato sandwiches and instant potatoes and some tomato salad (the tomatoes were going bad so we wanted to use them up ASAP). Coffee and cookies were dessert.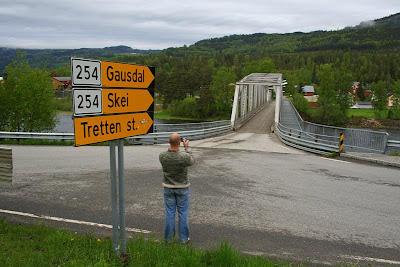 The weather is not so good. It's been raining and temps are around 10-13 C.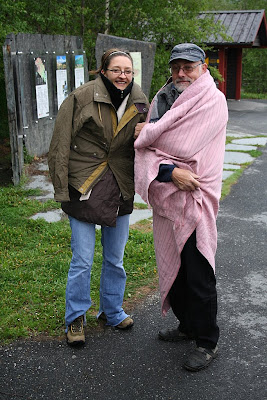 Dad and I are freezing – who cares what we look like, it's time to get warm!
Tonight is the first night for camping, we are praying for no rain and warm night. We tried to find campsite for camping.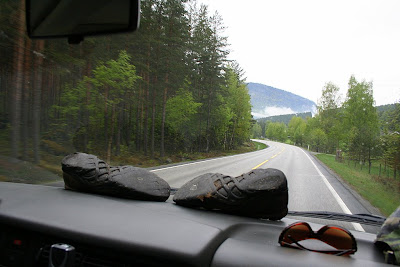 Neil's shoes drying on the car heaters
Stopped by the first place with no idea how much they might charge us. The first owner of the camp site asked us 350 kronas which is about £34 or $70, then he found out that we have 5 people and decided to charge us another 40 kronas, which was almost 400 kornas, which is about £40, $80. I told him that it's a little more than we are willing to pay and that we'd give him 350 or we will decide against it. He didn't want to bargain and we left. The night was coming fast and we were getting a little worried that we've made a mistake. We found another campsite but is was closed, the next one we came across was open but there was no owners there. We went and found someone who is staying there and asked for a phone number. We called it but no one picked up, so we decided to just build the tents anyways. This campsite was 15 km before Lillihammer. It was raining and little and getting dark. Neil made the dinner – an omelette with sausages and cheese. The rain stopped spitting and the moods lifted.
Everyone was warm at night except for me, but I had not shut my sleeping bag completely. In the morning we left at 7 am.
Day 3 – Norway, May 29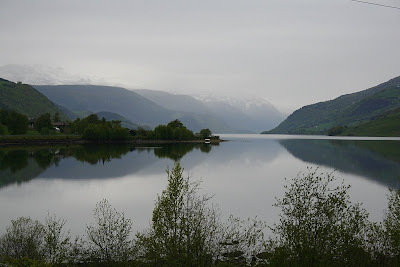 We drove in the Oppland area North. From Lillihammer we went through Otta towards Styrna and planning to stay by Kvittenell tonight.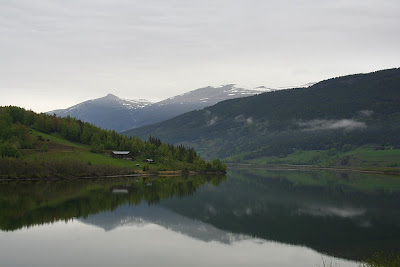 It is so beautiful here! Huge mountains lakes and rivers.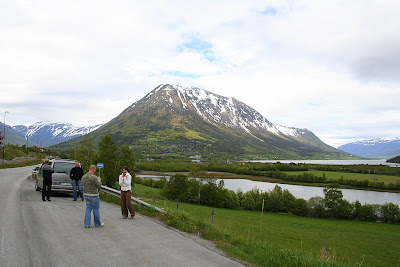 The whole country is like a huge park, too beautiful to be real, it looks like a postcard everywhere you look. Wooden homes in the remote mountains in dark colors with red window frames. Woods, waters, waterfalls, cliffs, it is more than I though it would be – it is so breathtaking! We are driving through little villages in the mountains. We can't figure out how these people in the remote villages make money because they are few and far between and there aren't many jobs. It has to be farming and lumber. But the big question about that is that there is only 4% farmland here. There are little sheep and horses and goats in the mountains.
We stopped by Lom, a beautiful little town. Visited the Lom Stankyvike, which was built around 1170. A very old Norwegian style church.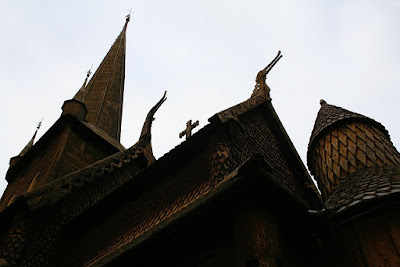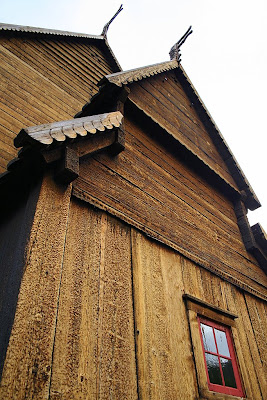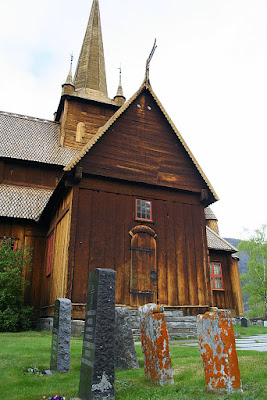 Day 4, Norway, May 30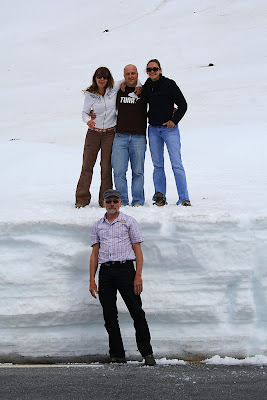 After we drove through mountain roads we got high on mountains, where there were snow banks about 5 meters deep on both sides of the road.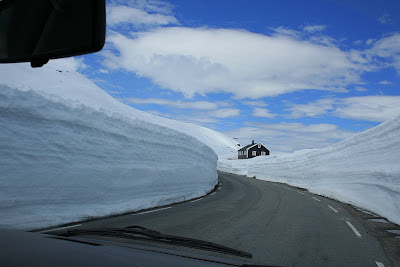 We saw a Rudolph the Red Nose with his herd on one of the high mountain roads, we drove high up in the mountains and thought of building a snow man, we drove down the mountains and saw the fjords, drove through tunnels in the mountains that were 25 km long. Finally we got the fairy, which took us across the fjord, that cost 140 kronas for the car and the 5 of us.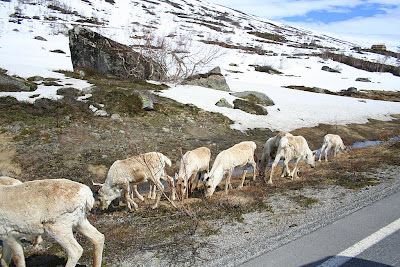 Once we crossed the fjord, we were driving toward the meadow my dad knows and were hoping we won't have to pay for building our tents there. Finally we arrived!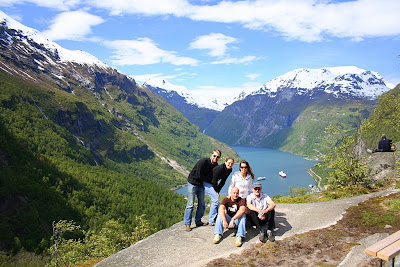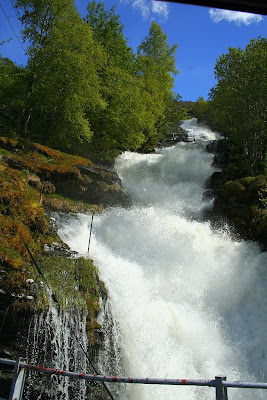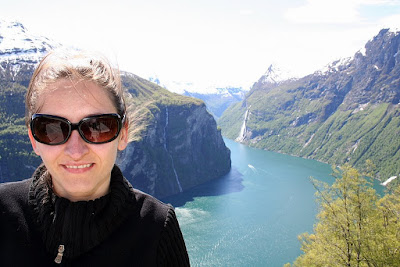 The meadow was still there and we could build out tents! From the meadow, we saw about 7 waterfalls, we were on the edge of the water.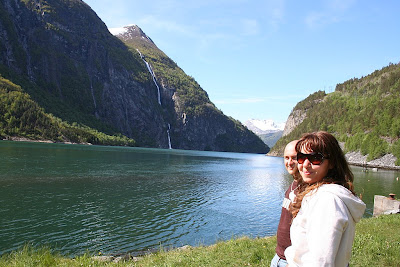 There is a little town nearby on the left side.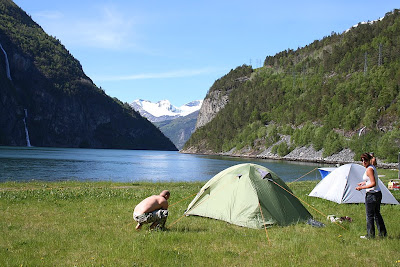 There are dandelions in the meadow we have built our tents in and we can hear waterfall sounds. There are snowy mountains above us but it is nice and warm where we are at. We all put on bathing suits and let the sun bathe us.
Dad, Anda and Janis have gone fishing after they all blew up the boat and put the motor on.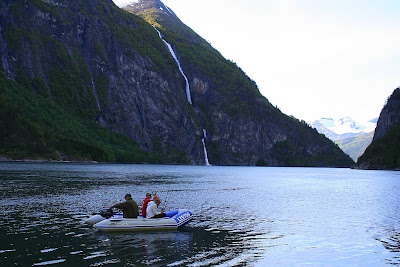 Neil and I got really worried at one point because we didn't see them go anywhere but the boat was gone. We walked to the town because there we could get a better view of the fjord (lake).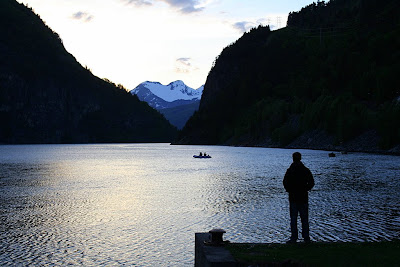 While we were looking for them we saw a huge fish swimming like a dolphin. We were really confused since the fjords are connected with the sea and the water should be too cold for dolphins.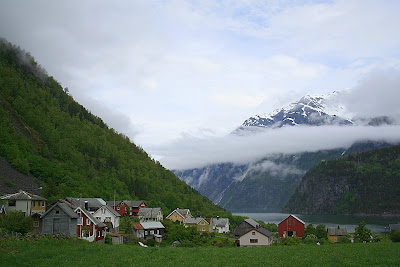 By the time we got back, they were coming back from behind the mountain and we were really relieved. Dad took Neil and I to see the waterfalls closer, it was magnificent. The sun was setting and it was absolutely fairy tale like.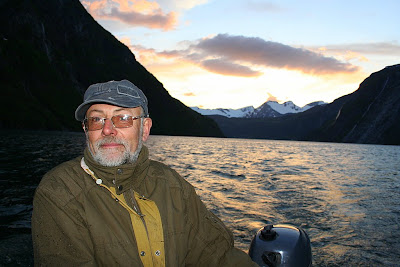 There were bright orange, bright yellow, bright pink and it kept changing all the time and it was reflected in the water. I took about 2000000000 pictures.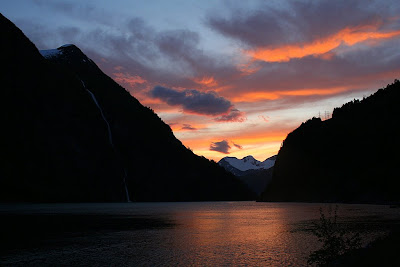 I'd never experienced the north but had heard that high up north the days never get dark and night and never get light in the different seasons. We were busying around wondering what time it could be because it still felt like 9 –10 pm. It turned out to be 12:30 pm. We couldn't believe!
We went to bed that night and were awakened by really strong winds ripping the pegs of our tents out of the ground. We had to get up at night and had put them back in.