Day 5, Norway, May 31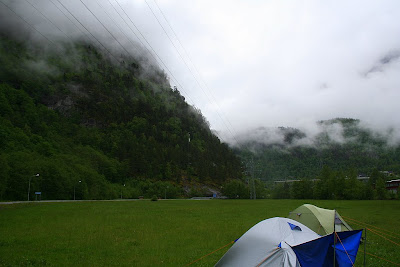 Neil and I slept until 12 pm. We hadn't had such a deep healthy sleep in a long long time. I was so sleepy the whole day, I think the fresh healthy air was like a sleeping pill to me.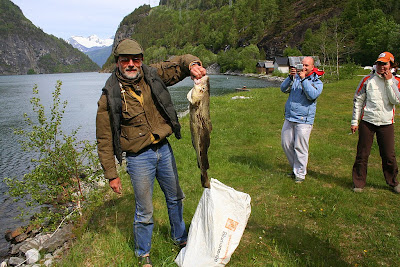 The fishermen – Anda, Janis, and dad were out fishing and got 5 fish. One was 4.5 kg, one 4 kg, 3.5kg, 3 kg and 2 kg. Huge cod. We took pictures to show off the catch.
At noon dad took a nap, Neil was reading, I was writing in my diary and Anda and Janis are working on the fish for the dinner.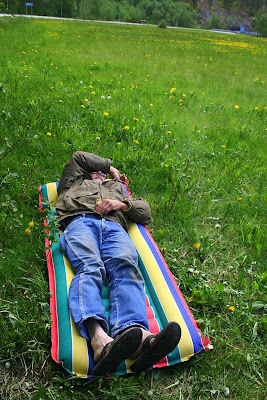 Camping is all about relaxing. With no stress, nothing to do that night or the next morning, or the next night, the body calms itself, all of a sudden, I can't keep my eyes open. Mundane things like watching a seagull circling in the air becomes interesting and relaxing. The modern world was left behind and timelines, mobile phones, hurry, modern appliances can stay where they are – I am perfectly happy with peeing in the woods. The wind is strong but there is no rain although we are sensing the weather will change soon, the wind is blowing a change our direction. The waterfall is so calming with is constant buzz sound. It seems surreal we are looking at huge mountains, they are right in front of us. At the same time it seems so perfectly normal they are here, it is not even a question, as if we've always been here and have had access to this beauty all along. Doing dishes in the lake water seems normal here. The scolding cold water that flows from the mountain melting snow doesn't seem to bother me at all. The existence of another reality where there is rush seems impossible right now.
Day 6, June 1, Norway
We woke up and I went fishing with dad, Anda and Janis.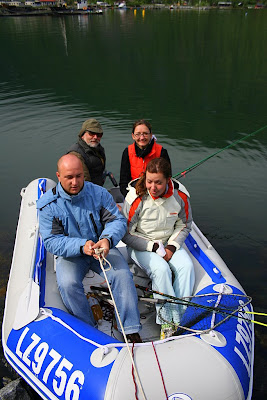 We fished a few hours. Dad caught one, Anda two and Janis and I were left wanting to catch a fish.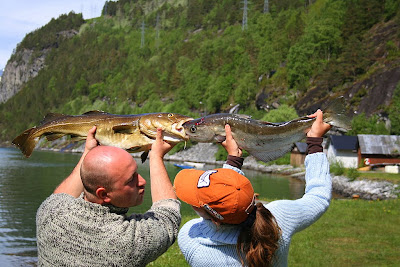 Later Anda and Janis went to the little town, while Neil and I with dad, went fishing. Neil caught one fish, I got two. We make a nice dinner with grilled fish, Neil made very delicious potatoes with sausages. Neil went to bed early, Anda, Janis and I played Sequence.
When dad woke up from his nap, all four of us went to fish. There Anda was telling her stories from childhood. We laughed so hard our bellies hurt.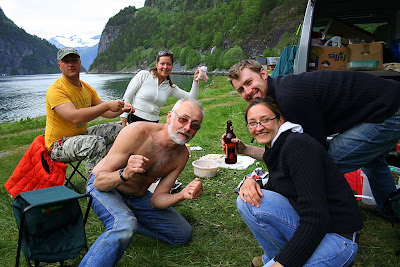 Day 7, Norway, June 2
In the morning it was raining. Dad got a little serious and concerned because he thought we are angry at him for staying here so long. It was totally wrong because we enjoyed the relaxation. Since it was raining, we decided to take off travelling.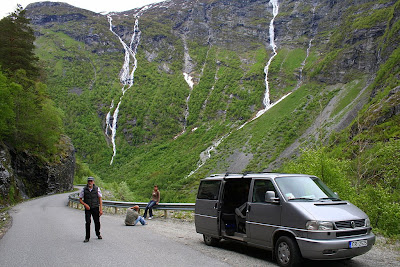 We put together tents and take off. We drove to look for the lake that was on the map, that should have been nearby. We went through enormous mountains, very little steep roads.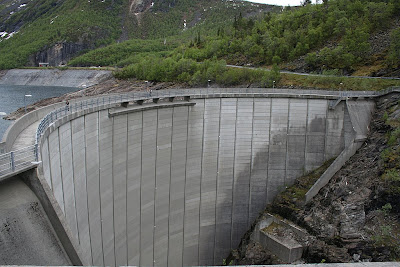 It was fantastic because scenery was changing every minute. We made dinner in the mountains. On the way back we stopped by to buy some sour cream for salads.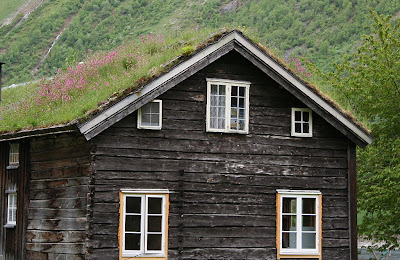 There dad and Janis went to buy some lures for fishing from a guy who was selling from the back of a truck. There we asked the man who was selling the stuff about the dolphin like fish, he said they are actually whale like fish that wonder in the fjords.